Resin Statue
Contribution of Universal India in the domain of sculpture and artwork in globally
Universal India and Indian Sculpture Foundry is one of the renowned names when it comes to sculpture making and artwork. UNIVERSAL INDIA has gained name and fame all over the world for its fine work. The company has some of the finest sculpture making artists from India. Universal India also has a foundry under the banner of The Indian Sculpture and Art Company. When it comes to FRP statues or FRP sculptures, no one can beat them in this domain. Their FRP statues are extremely famous as it has fine detailing and four coatings which make the statues more durable and long lasting. UNIVERSAL INDIA is the market leader. They have huge foundry which can be visited by anyone on prior request. They are famous because of their superb artwork, durable finish, on-time delivery, competitive rate. Their creativity is simply unbeatable. The duo-Vivek K Aggarwal and Vikas Gupta from The Indian Sculpture and Art Company are leading the market. Their creativity and artistic mindset is making them famous all around the world, and their products are in high demand which is bounding them to expand globally.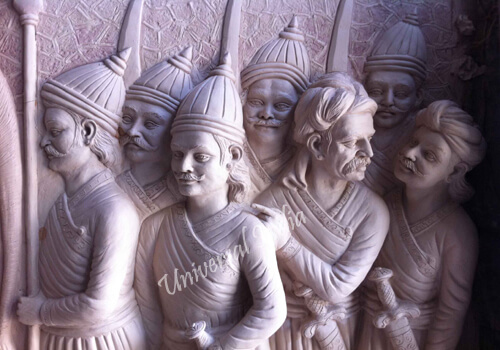 Resin Statue
Our work install at International Airport New Delhi departure Gate No. 28. Most popular Mural Art work in India.
FRP Statue
FRP stands for Fiber Reinforced Plastic also it is known as Fiber Reinforced Polymer. FRP is basically a composite material which is made up of polymer and is reinforced with several kinds of fiber. This fiber is usually made up of glass, carbon, basalt or aramid. The polymer which is used is usually comprised of polyester thermosetting plastic, phenol formaldehyde resins, and epoxy or vinyl ester. When it comes to sculpture, FRP refers to glass reinforced material where synthetic resin acts as a binder.
Features of FRP statues:
FRP statues come with great features. FRP statues or FRP sculptures have high strength and is of the lightweight. In compared to the weight ratio FRP sculptures come in high strength and has long life shell. FRP sculptures are easy to install and has a great smooth surface. FRP sculptures have super impact resistance. Multiple colors can be used and come with UV resistant options. Fine detailing can be done on FRP sculptures. FRP sculpture is just the replica of the clay model, only the material is of fiber. Any sort of image can be portrayed through Fiberglass.
Features of FRP statues:
Attractive Design
High strength
Long service life
Inbuilt color
Impact Resistance
UV Resistant Option
Flexibility
Smooth surface
Easy installation
Lightweight
Various Colors Options
Super Finish
FRP statues for your indoors
FRP statues are best for indoor decoration. It has a long lasting life shell. FRP status remains as it is for life long period. It never sheds its glow. In case if you are choosing an outdoor display for FRP statue, in that case, maintenance is required at a gap of every 20-25 years.
How FRP sculpture is made?
FRP statues are made with extreme delicacy and proficiency. A clay model or prop is prepared using silicon or POP mold. This is also known as resin casting. Various chemicals are used to make it more durable. After the casting process is completed these pieces are joined and ones it is accomplished several colors and design treatment is done to give a final elegant look. The best part of FRP sculpture is that it is corrosion resistant, economic and extremely durable.
Contribution of The Indian Sculpture and Art Company towards FRP statue in India
The Indian Sculpture and Art Company is one of the leading sculpture-making companies who are extremely well- known for FRP statues. We design FRP sculptures for various organizations- temples (mandir), church, hotels, restaurants, parks, offices, houses, malls, etc. Our FRP sculptures are weather resistant and are abrasion- proof. Our FRP statues are highly durable and have a great shelf life. Universal India is involved in crafting and exporting FRP statues of various designs all over the world. Our FRP is sourced from top vendors from the world. The best and unique part of our FRP statues is that we use four coatings to have a strong and better lifespan of the sculpture. We create both modern and ethnic art/ model with FRP. Our FRP material is of high quality. We have many FRP statue/ fiber sculptures at several places within India too. We have three unique pieces of Modern Art Sculpture of 8 feet height made in Fiber Glass Resin which is installed at Sector 45, Noida. Several FRP Sculptures and Artwork based on World War I theme has been installed in Indian Army HQ, New Delhi.