Statues
Statue Manufacturing – AN INCREDIBLE ART
India is a religious country and we have countless numbers of temples, mosques, churches and gurdwaras here. You, I and all of us have been seeing the image of God in the form of idols since childhood. There are so many sculptures of different deities in different shapes and colors, but one thing which I find admirable is that their foundation is same. Not only this, we often sees statues of freedom fighters, famous figures, kings and their dynasties at the crossroads or in museums or in some historical places. Fortunately, the world's largest statue (Statue of Unity) is now in India. Eventually, I want to say that India is a prosperous country in the art of "Statue making". Although this art is about 30,000 years old but with time it is nourished in India and the Indian sculpture and Art Company justifies this statement well. They have made and installed many prestigious sculptures around the world.
The composition of statues varies enormously. They can be made from traditional materials like stone, marble, bronze, clay, wood or ivory as well as from precious metals like gold, silver and copper. Other materials from which statues can be sculpted are scrap metal, plastic, aluminium, concrete. We have numerous artists and amazing statue manufacturer in India. Those are famous for their work not only in India but throughout the world. The Indian sculpture and art company widely known as Universal India is one among them. They make word class artwork such as statues, sculptures, relief, mural and customized artwork.
Procedure
Universal India basically use 'Italian lost wax method' for statue and sculpture making. They have two foundries in India at Lucknow and Gurgaon. The foundries have a capacity to accomplish 5000 kilograms of casting a day. Every company's work varies from one another in material, design or equipments but the basic process of statue manufacturing is similar. • Statue manufacturing process starts like any other process with an idea, research and sketch formation.
• Once sketch is created and finalized then sculptor makes a basic model of clay/POP/mitti as per specification. Upon approval, the statue is ready to be cast.
• The first stage of the process is to divide the statue into smaller sections.
• Then the manageable size mold is prepared, usually by the experts. Once the mold is made, liquid resin, cement and plaster is poured into the mold.
• Now, the molds are stored in temperature and humidity controlled rooms for 24-72 hours, depending on the configuration of the piece.
• When the statue has dried partially, the mold is carefully removed. Then the statue is stored again in a drying room for 24-72 hours.
• After this, an interesting process begins that is finishing process, this process involves sending and priming. The process is important and carefully done because the quality of the sanded finish will affect the quality of the paint and the final appearance.
• Then statues are painted in the paint room and are left to dry overnight. • Now your fabulous statue is ready to display.
After experiencing it, all I can say that…… a statue manufacturer, a sculptor pours his feelings, his thoughts, his experiences, his hard work in it and then makes an incredible creation.
To explore more about this art, visit Universal India.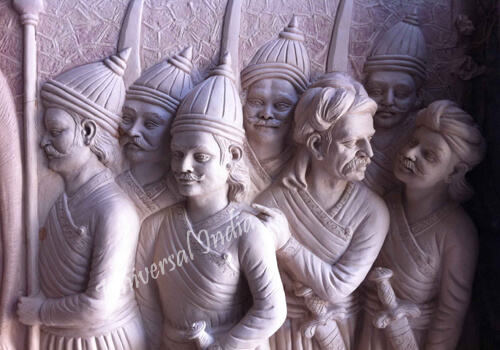 Resin Statue
Our work install at International Airport New Delhi departure Gate No. 28. Most popular Mural Art work in India.