Wall Sculpture
Contribution of Universal Sculpture
Universal Sculpture is a well- known name in the domain of Wall sculpture genre. Various famous wall art is made from this foundry. The Indian Sculpture and Art Company is specialized in creating customized wall sculpture using various materials such as Bronze, Brass, Copper, Aluminium and Fiberglass resin. They are famous for customized Mural Art, Relief Art, Wall Sculpture and Wall Art. Few notable projects can be found in International Airport, where one refers to Mysore Royal Procession and another is Warli Art. Missing girl project- All India is also portrayed by The Indian Sculpture and Art Company. They worked on various projects on PAN India basis. If you are looking for customized artwork of any sort and especially if it is wall artwork then you need definitely try out The Indian Sculpture and Art Company.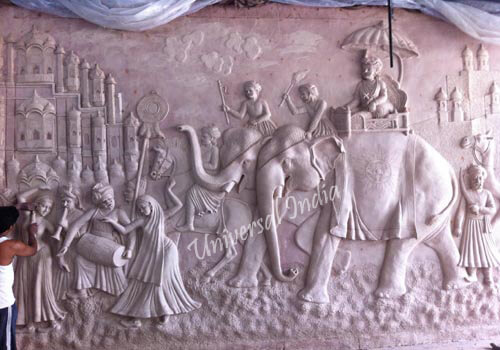 Wall sculpture
This is the live photo of wall sculpture at our foundry. Final Artwork has been installed at International Airport New Delhi. Location: Gate no. 28 and 29 departure level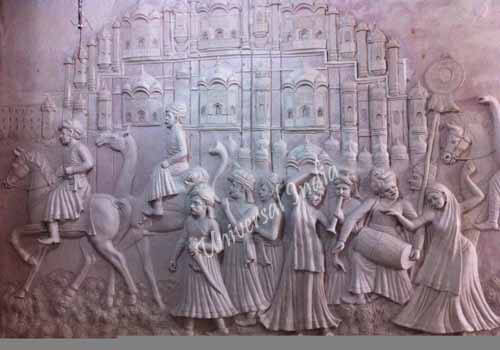 Wall sculpture
This is the live photo of wall sculpture at our foundry. Final Artwork has been installed at International Airport New Delhi. Location: Gate no. 28 and 29 departure level
What is Wall Sculpture?
Wall has always served as a base for the foundation of any space and beautifying it with several art pieces in various forms will definitely create a dignified ambiance. The Wall Sculpture artist plays a very significant role to decorate the walls with their effective skills. The wall sculpture artist takes the different material and make a fine art of wall sculpture. And the sculpture artist put their imagination and creativity to this art. Since prehistoric ages, caves have been as a source of various wall sculptures and paintings. In initial days, this was made to depict a story or a social state or for decor purpose. But currently, wall sculptures are solely made to enhance and glorify the beauty of the place. Now wall sculptures are made for both indoor and outdoor. Nowadays various kinds of metals and materials are used to glorify the beauty of the wall.
History of Wall Sculpture
Wall Sculpture has always been a part of architectural design since ancient ages. We can find the reference to wall sculpture in ancient buildings during the rule of Egyptian Pharaohs. Even in Greek classics, we can find reference to wall sculptures. Roman Empire, Babylonian Kings, Persians, and Meads all have thoroughly used wall sculpture as an art to decor the royal buildings. The reference of Relief wall sculpture can be found back in 443 BC, which is famously known as Parthenon frieze and was made under the direction of Pheidias, the famous Greek Sculptor. Even if we see the Gothic art, we can find various patterns of wall sculpture in many churches that are designed as per Gothic style. The Western (Royal) Portal at Chartres Cathedral is one of the finest examples of Wall Sculpture.
If we look at Indian History, since Chola dynasty we can get the reference to the mural as a wall art. Cravings and painting have been found in various temples during this age. The Chola Fresco of dancing girls at Brihadisvara Temple c. 1100 C.E is one of the oldest sources of wall art. Even if we look at the Warli art that was previously done by villagers on their house wall is just another form of wall art.
Types of Wall Sculpture
Wall sculpture has now got diversified and there are various forms available. The main types or varieties that are available are:
Mural
Mural is basically an artwork that is painting directly on the wall or ceiling. Architectural elements or figures can be added along with the painting to add features to it. You can find reference to murals in Ajanta caves which depicts Jataka Tale. Since Middle Ages mural is being made of dry plaster.Mural painting is different from all other forms of art that is it is organically connected with architecture. Mural is a three dimensional artwork. It gives very elegant look to walls.Fresco is also another name for murals which are used by water-soluble paints. Murals are of various patterns depending on the base material used and the design pattern such as Ethnic Mural, Tile Mural, Graffiti-style interior Murals and Traditional Interior Murals.
Relief
Relief is another wall art, where sculptures are attached to the wall, which is used as a solid background. It is named as "relief" as the figures remain "raised" from the wall or ceiling.Reliefs are traditionally classified according to how high the figures project from the background. Relief like a picture depends on background surface. Initially, reliefs were made out of stone and wood carving. But nowadays due to various contemporary design works, latest materials such as metal, clay and plaster stucco is used with metallic colors. Reliefs are further of three types- Low relief or Bas-relief, Mid-relief, High relief, Sunk relief, and Counter-relief. The types vary on the projection style.
Wall 3D sculpture
Wall 3d sculpture is one of latest contemporary wall artwork which is a higher version of relief work. The figures and elements emerge out in three-dimensional forms in equal parameters of width, length, and depth. 3D wall sculpture can be formed with metal, plaster, and clay. If you are looking for contemporary design and want to create a lively feeling on the wall then 3D wall sculpture is ideal for your personal and commercial space.