Metal Statue
Contribution of The Universal India
The Indian Sculpture and Art Company is one of the leading sculpture-making companies all over the world. Universal India, the mother company, is considered to be one of the best sculpture-making companies in India. The Indian Sculpture and Art Company produces sculpture made of various metals. They are specialized in brass sculpture, aluminum sculpture, bronze sculpture, copper sculpture, stainless steel sculpture and mind steel sculpture. The company is having one of the finest and most efficient sculptors. The Indian Sculpture and Art Company's foundry has an eligibility to produce single piece sculptors of 10 ft high and more. Their Metal Sculptures are extremely famous as they have great finish and is available in good price.
Universal India is the market leader. If you are looking for creativity, ethnicity, modernism and authentic work, then The Indian Sculpture and Art Company is the trustable name in the market. The two brothers Vivek K Aggarwal and Vikas Gupta are the leaders in the creative market. The metal sculptures are delivered on demand within India and even abroad. Mr. Vivek the Creative Head whose ideas and artistic mindset creates unique fine art which is further supported and promoted by Mr. Vikas the Technical Head. The two brothers are rigorously capturing the Indian market and expanding globally.
Metal Statue
The location of this installation is Vauxhall, near the US Embassy in London. Elephant made in pure Bronze metal.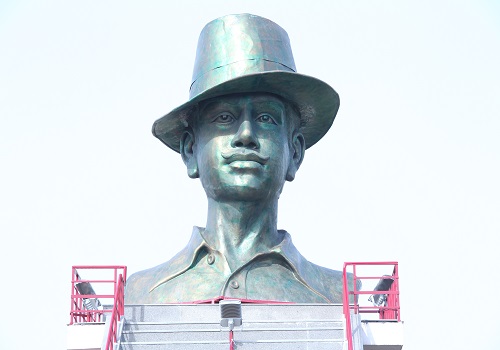 Metal Statue
These products provide features, such as romantic shapes and curves, love making appearance, clear cut etc. our sculptors are portable and easy to transport. Bronze sculptors can be used as a gift to present to your loved ones.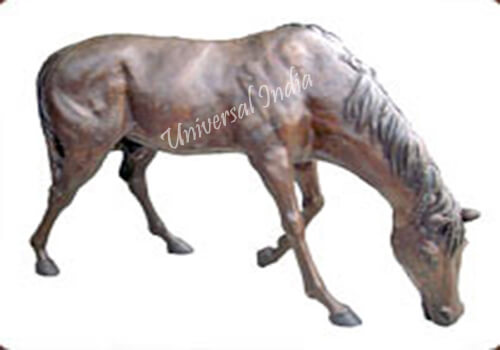 Metal Statue
Animal Sculpture is attractive and realistic in appearance. These are additionally featured with smooth outer surface, clear and magnificent finish etc. all our range of animal sculptures can be placed as decorative in many area.
Metal Statue
Sculpture or statue is one of the most prominent visual arts which can be visualized in three different dimensions. Sculpture can be made out of various mediums- metal, wood, ceramic, stone, FRP and lot more. With the approach of the Modern era, sculptors got complete freedom of material and process. The process mostly followed are welding, modeling, casting, and carving. Statues have been mostly used as a figure for worship or for beautification. Since Ancient ages sculpture has been in use and with Modern ages sculpture making has been into a great boom. During Renaissance emphasis has been given more into depiction of the human body.
Metal artworks are sculpted for aesthetic and practical purposes. Mostly metal statues and sculptures are mostly used for décor purposes. These are ornamental pieces that add on to the décor of the space. The mediums that are mostly used are brass, aluminum, bronze, copper, stainless steel and mild steel.
If we go back to the ancient days a majority of artifacts include a variation of metal. And these metal art pieces are mostly metal statues or decorative pieces. In the Egyptian period even funeral masks were made of metal. The magnificent statues of Rome and Greece are mostly are casted in bronze. With time, new metals have been introduced, and with a renewal of interest metal artworks are used for adornment purposes. Metal artworks are used in various forms of sculptures, wall art, statues, and even decorative furniture and decorative show pieces.
As mentioned before when it comes to metal sculptures there are various metals that used to create sculpture. Let's know in details about the important metals that are in use for metal sculpture.
Bronze Sculpture
Bronze is one of the oldest forms of alloy. Bronze is one of the most popular forms of cast metal sculptures. Bronze can be used for statues, reliefs, figurines etc. Bronze is basically an alloy of 85 % of copper and rest Tin, Zink, LED alloy. During the 4th millennium BC bronze was widely used in India. Bronze came to use because of its durability, and slowly it replaces stone and copper. The expansion capacity of bronze helped sculptors to have detailed design engraved in it and this property enabled to create great masterpieces. In India, Bronze sculptures were found during the Gupta period. In the Chola Empire, bronze sculptures were made using the lost wax method. Lost wax casting is also known as precision casting and is widely used for Bronze sculpture. It is a cire-perdue method where the molten metal is poured into a mold which has been developed using a wax model to get the desired shape. Bronze sculpture with the patina finish is very much in fashion. Patina is a layer of the deposit that provides a great finish to the sculpture. The patina finish provides blue-black, blue-green, brown-black or yellow-green finish.
Aluminum Sculpture
Aluminum Sculpture is another form of sculpture that draws the attention of millions. Aluminum is in use since 5th century BC. In 19th and 20th century Aluminum statues are in a boom. Several eyes catching 2d and 3 D statues are produced with aluminum. Aluminum is easy to mold and shape. The best part of aluminum is its extreme light weight. The aluminum sculpture is cheaper and has high corrosion resistance and this makes Aluminum one of the most desired metals for sculpture making.
Stainless Steel Sculpture
Stainless Steel Sculpture is one of the most demanded products now-a-days. Stainless Steel is one of the revolutionary products that emerged out in the form of beautiful art pieces. The extra ordinary corrosion resistance made Stainless Steel a powerful medium in the domain of art and sculpture. The longer life cycle and the easy clean option have made it a big hit. Some of the most iconic monuments and sculptures have been made up of stainless steel. Coming to the stainless steel that is used for stainless steel sculpture you need to know the details. There are three grades of Stainless steel. Grade 316, this is considered as the best Stainless Steel which is used to deliver mirror finish work. This steel has no dent or scratch and is corrosion free. Stainless steel 316 provides high polished, high quality mirror finish sculpture work. This steel is best for mega structural work till 100 feet and above. Next grade is 304- stainless steel which can be used for medium range and produces high quality finish, but not like 316.
Brass Sculpture
Brass is a yellow alloy of copper and zinc. Brass was discovered at around 500 BC. The high level polish of the brass makes it look lustrous and bright. A coat of lacquer is used to protect the shine of brass sculpture. The soft quality of brass metal helps the craftsman to roll it into thin sheets on which designs can be stamped. Shapes and forms can be easily created. Brass is used for creating vintage brass motifs, antique pieces, and brass sculptures.
Copper Sculpture
Copper and its alloy have been in use throughout ages for sculpture making. The unique properties of copper which can be manipulated to various shape, size and design make it a choicest metal for sculptors. Copper xtures and copper nisches are used for home décor. The red-gold hue of copper gives a great look to the statues. There are numerous alloys that can be formed with copper for making copper sculptor. Alloys like copper and tin form bronze alloy and brass are formed from copper and zinc alloy. Another variation can be formed named as cupronickel where copper is mixed with nickel. Copper is alloyed with another metal as that enables ease of casting and good strength and corrosion resistance. Moreover an alloy makes copper stronger, so the durability of the copper statue will be more.
Mild Steel Sculpture
Mild Steel is also known as low-carbon steel. Mild steel is basically iron which has a small percentage of carbon to make it strong and tough. This is also known as plain-carbon. The mild steel is relatively low in cost and is the most common form of steel. The price of this form of steel is also relatively cheap. Mild steel contains .05-.25 % of carbon. Mild steel is one of the choicest metals for sculpture making as it can be bent easily if "annealed" previously.